Navigation¶
Navigating Between Views¶
The requestNavigateTo method is used to navigate between different application views. You can pass data between these views by passing parameters. The following sample code illustrates one such example:
<?xml version="1.0" encoding="UTF-8" ?>
<Module>
    <ModulePrefs
        title="View Navigation Test"
        description="Example of how to navigate between different views and pass data between them."
        author_email="help@example.com"
        thumbnail="http://example.com/thumb.png"
        screenshot="http://example.com/screenshot.png">
        <Require feature="views" />
        <Require feature="dynamic-height"/>
    </ModulePrefs>
    <Content type="html" view="home,canvas,profile"><![CDATA[
        <h3>View navigation</h3>
        <div id="view_nav"></div>

        <h3>Current view</h3>
        <div id="curr_view"></div>

        <h3>Available views</h3>
        <div id="view_list"></div>

        <script type="text/javascript">
            getViews = function () {
                var views, viewHash, viewArray;

                views = gadgets.views.getSupportedViews();
                viewHash = {};
                viewArray = new Array();

                for(var view in views) {
                    viewHash[views[view].getName()] = view;
                }

                for(var view in viewHash) {
                    viewArray.push(view);
                }

                return viewArray;
            };

            function currentView() {
                var curr_view_html = document.getElementById('curr_view');
                var curr_view_ref = gadgets.views.getCurrentView();
                curr_view_html.innerHTML = "Current view: " + curr_view_ref.getName();

                gadgets.window.adjustHeight();
            };

            function supportedViews() {
                var view_list_html = document.getElementById('view_list');
                var views = gadgets.views.getSupportedViews();
                var html_out = "<ul>";
                var views;

                views = getViews();

                for (var itor in views) {
                    html_out += "<li>" + views[itor] + "</li>";
                }

                html_out += "</ul>";
                view_list_html.innerHTML = html_out;

                gadgets.window.adjustHeight();
            };

            function viewNavigation() {
                var view_nav_html = document.getElementById('view_nav');
                var views;

                views = getViews();
                html_out = "<select id='view_select'>"
                for (var itor in views) {
                    html_out += "<option value='" + views[itor] + "'>" + views[itor] + "</option>";
                }
                html_out += "</select>";

                html_out += "<ul><li>Value One: <input type='text' id='txtParamOne' /></li>";
                html_out += "<li>Value Two: <input type='text' id='txtParamTwo' /></li></ul>";
                html_out += "<input type='button' onClick='navigateToView()' value='Go!' />";

                view_nav_html.innerHTML = html_out;

                gadgets.window.adjustHeight();
            };

            function outputParameters() {
                var params1 = gadgets.views.getParams();

                if ('undefined' === typeof(params1) || 'undefined' === typeof(params1['param1'])){
                    return;
                }
                document.getElementById('txtParamOne').value = params1['param1'];
                document.getElementById('txtParamTwo').value = params1['param2'];

                gadgets.window.adjustHeight();
            };

            function navigateToView () {
                var dest_view = document.getElementById('view_select').value;
                var views = gadgets.views.getSupportedViews();
                var dest_view_ref = views[dest_view];

                var params = {};
                params['param1'] = document.getElementById('txtParamOne').value;
                params['param2'] = document.getElementById('txtParamTwo').value;
                gadgets.views.requestNavigateTo(dest_view_ref, params);
            };


            currentView();
            supportedViews();
            viewNavigation();
            outputParameters();
        </script>
        ]]></Content>
    <Content type="html" view="profile"><![CDATA[
        <p>Hello, Profile View!</p>
        ]]></Content>
    <Content type="html" view="canvas"><![CDATA[
        <p>Hello, Canvas View!</p>
        ]]></Content>
    <Content type="html" view="home"><![CDATA[
        <p>Hello, Home View!</p>
        ]]></Content>
</Module>

For those needing to retrieve the parameters passed from the query string, the view-params object takes parameters in JSON format to be passed into applications. This is similar to the way that Orkut passes query string parameters via gadgets.util.getUrlParameters() in this URL: http://code.google.com/apis/orkut/docs/orkutdevguide.html. It is also possible to manually parse the parameters using location.href and using a string matching function or a regular expression.
Sub-Navigation¶
Ning Apps and Profile Apps can specify sub-navigation links that live outside the OpenSocial container that allow for navigation between the different canvas pages.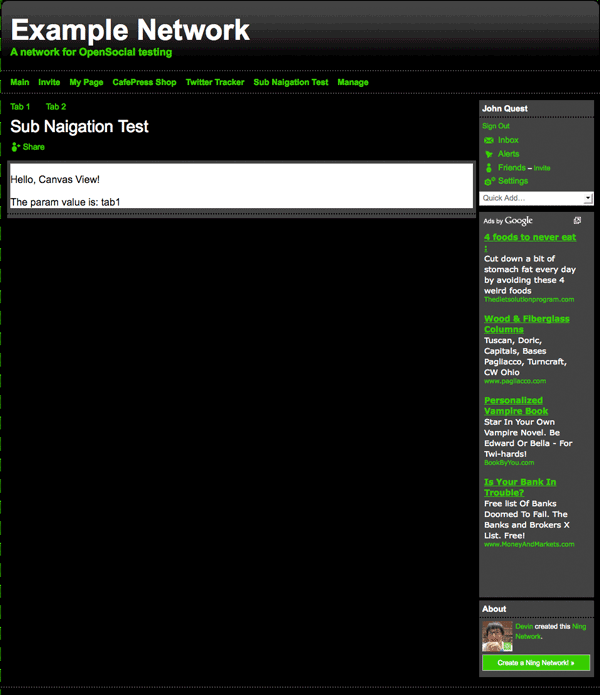 Sub-navigation elements are specified via Ning namespaced elements in the gadget XML:
<?xml version="1.0" encoding="UTF-8" ?>
<Module xmlns:ning="http://developer.ning.com/opensocial/">
    <ModulePrefs
        title="Sub Naigation Test"
        description="Example of how to use sub navigation and pass parameters."
        author_email="help@example.com"
        thumbnail="http://example.com/thumb.png"
        screenshot="http://example.com/screenshot.png">
        <Require feature="opensocial-0.8" />
        <Require feature="views" />
        <Require feature="dynamic-height"/>
        <ning:navigation>
            <ning:link>
                <ning:name>Tab 1</ning:name>
                <ning:URLParameter>param=tab1</ning:URLParameter>
            </ning:link>
            <ning:link>
                <ning:name>Tab 2</ning:name>
                <ning:URLParameter>param=tab2</ning:URLParameter>
            </ning:link>
        </ning:navigation>
    </ModulePrefs>
    <Content type="html" view="canvas"><![CDATA[
        <script type="text/javascript">
            var o = gadgets.views.getParams();
            document.write("The param value is: " + o.param);
            gadgets.window.adjustHeight();
        </script>
        ]]></Content>
</Module>

Note that the canvas view will returned "undefined," as no parameters were passed to the canvas page.
Previous topic
Next topic
Navigation